Overview
BERNINA 530 – for ambitious sewers
Perfect stitch control
The BERNINA 530 boasts an extensive repertoire of utility and decorative stitches whose properties can be individually set. Stitch length and width as well as 11 different needle positions can be freely modified, and either temporarily or permanently saved to the 530's memory. The BERNINA 530 is therefore up to the challenge of a wide range of tasks, and provides you with optimum control over your sewing projects. Stitch parameters can be individually matched to the fabric and the intended effect, so that you always achieve your desired result when sewing and quilting. The BERNINA 530's clearly laid-out control panel enables quick access to all stitch patterns and settings, including reverse and mirror function, manual or automatic buttonhole, and much more. Clever, practical and flexible – the ideal sewing machine for ambitious sewers.
BERNINA Stitch Regulator available as an optional accessory
The optional BERNINA Stitch Regulator (BSR) also puts maximum-precision free-motion sewing and quilting within your grasp. The easy-to-attach foot imparts full BSR functionality to the BERNINA 530 and provides exact stitch lengths when free-motion sewing, even at variable speeds – increased precision that makes for an accurate, picture-perfect quilting result. This sophisticated technology evens out variations in speed during manual guiding of the fabric, thereby creating a consistent and precise stitch pattern. The optional BSR function of the BERNINA 530 is a valuable tool that you soon won't be able to live without!
Sewing precise buttonholes made easy
With the BERNINA 530, sewing buttonholes of the exact same length is no longer a problem. Simply set the desired buttonhole length and sew. The BERNINA 530 saves the set length and automatically repeats it with each successive buttonhole, as many times as you wish. You achieve precise results that meet the highest standards with no resetting and very little effort. This one-step automatic system demonstrates the BERNINA 530's high standards for comfort, convenience, and ease of operation. A winning combination of cutting-edge know-how, long-standing experience, and Swiss precision.
Extensive stitch library
The basic equipment of the BERNINA 530 encompasses 148 different stitches covering a wide range of uses: 22 utility and 117 decorative stitches including 12 quilting stitches are available to users from the get-go, allowing you to complete a wide array of sewing and quilting projects to the highest standards. In addition, the BERNINA 530 offers nine different buttonhole programs, four sewing alphabets, and a range of practical functions such as mirror function or reverse sewing, and allows you to save your own stitches and stitch combinations in both the short- and long-term memory. With this feature, you can program your own creations in the BERNINA 530 to be available for you again the next time you start up your machine. Up to 100 stitch variations can be permanently combined and saved in this way – memory aplenty for your creativity and for your most frequently used stitch patterns and combinations.
Accessories Included
Reverse pattern foot # 1
Reverse pattern foot # 1 is the ideal presser foot for sewing forward and reverse-feed utility and decorative stitches.
BERNINA metal bobbins
Four different versions of the BERNINA bobbin are available. The metal bobbins can be used on all BERNINA sewing machines apart from the 7 Series and 8 Series.
Overlock foot # 2
Overlock foot # 2 lets you neaten seams easily and sew high-quality hems, waistbands and overlock seams on knit fabrics.
Buttonhole foot with slide # 3A
Depending on the model, Buttonhole foot with slide # 3A determines the desired buttonhole length for identical buttonholes either via a sensor or manually.
Zipper foot # 4
Thanks to its narrow, centrally positioned toe, Zipper foot # 4 can stitch very close to the zipper coils, allowing it to sew the zipper on neatly.
Blindstitch foot # 5
Blindstitch foot # 5 is suitable for sewing blind hems on all fabrics. When this foot is used, you can hardly see the stitching from the front.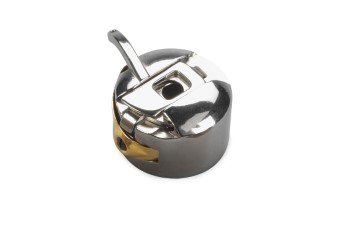 BERNINA cordonnet bobbin case for CB hook machines
The special BERNINA cordinnet bobbin case for CB hook machines is ideally suited for sewing with thicker threads, such as cordinnet threads, that cannot fit through the eye of a needle.
Free-arm slide-on table for ultimate sewing comfort
The Slide-on free-arm table is a practical table-extension mechanism for free-arm sewing projects which won't affect free-arm function when in place.